The one that was more than a design project
My story as a startup co-founder.
Droppa started as an academic project during my MBA in Business Innovation. But it soon found its space in the real world, winning awards and sparking investor interest - till it eventually became a real product.
​
It is a platform to mediate the service relationship between truck drivers and cargo assistants, building a network of quality and trustworthy service for both users. Through the platform, truck drivers can search for services and find the best professionals to serve them. Assistants receive new proposals directly through the app, bringing more convenience and managing their earnings on the platform.
Role:
Co-founder
Business Leader
Designer
Etc
Tags:
Entrepreneurship
Validating hypothesis
Testing
​
Understanding the context
Traveling along the roads of Brazil, with a bit of attention it's possible to notice a usual scene: Men, usually dressed casually in jeans and a T-shirt, holding or close to improvised wooden signs, painted by hands and in a rudimentary way, which reads: "Chapa".
​
"Chapa" is how they call an essential character in cargo transportation. He is the assistant who guides the truck driver and loads and unloads the truck. When making a delivery, the truck driver looks for these professionals on highways close to the destination to help him complete the service.
​
However, the relationship between the Chapa and the Trucker is relatively informal and full of turmoil, lack of trust, and insecurity.
​
One of the trucker's biggest fears is being robbed or kidnapped on the road. According to a survey by CNT (national transport company), 50% of truck drivers deny service when they consider there is a minimum risk of robbery.
When observing this informal relationship, but highly present in the day-by-day in the logistics sector, we realized that there was a substantial market opportunity in this scenario.
​
The supply chain is one of the fundamental pillars of our society. In Brazil, more than 70% of the products are transported through highways. But it often goes unnoticed, and opportunities like this are neglected simply due to a lack of visibility.
​
To dimension the market size, according to ANTT (National Land Transport Agency), there are about 2 million registered road truck drivers in Brazil. They make, on average, ten trips per month each. We're talking about 240 million trips a year, that could be served by a more structured service model. Only considering the city of São Paulo, there are more than 500,000 deliveries every month, which could generate job opportunities for more than 30,000 cargo assistants.
To better understand this scenario, we took the highway to meet these assistants and truck drivers, and also other professionals in this sector. We interviewed more than 80 users, including truck drivers, carrier owners, cargo assistants, gas station workers, truck valets, and even mechanics and owners of establishments where truck drivers and assistants usually frequent.
​
We also followed the routine of these assistants, waiting with them on the side of the road for a service, and even following up on loading and unloading services being carried out.
During this research, we sought to understand their pains, needs, and expectations, to see how we could develop a product that would mediate the relationship between truck drivers and assistants.
Throughout this research, we were able to condense all the insights raised. Based on this documentation, we could visually format the research. So, we structured the study according to the two user profiles we covered: truck drivers and cargo assistants.
The relationship between truck drivers and assistants is completely troubled. The truck driver often has to stop in the middle of the road to negotiate with an assistant he has never seen before - exposing itself to various dangers such as robberies and kidnappings. Not to mention that this informal relationship model exposes him to finding unqualified professionals.
On the other hand, the assistant has a tough routine. He doesn't have financial security or assurance that there will be service that day. He goes to the side of the road at dawn, and waits for hours for some ser
At that point, we had greater clarity in defining the design challenge we were facing:
To help convert user-generated insights into a product proposition, we've created a value proposition canvas for moth user profiles.
Thus, we crated Droppa - a platform that connects truck drivers and cargo assistants - bringing more trust, quality, and practicality to this relationship.
The truck driver can call a professional with the app, and the platform will serve him whenever and wherever he needs it, providing qualified and reliable professionals. And the professional receives orders on his phone, in a more practical and secure way.
From the prototype to the product
To develop the platform, the first thing we did was an MVP - a website through which assistants could register to receive services, and truck drivers could request new services. This experience helped us test the traction of the business model and further understand the needs and particularities of the service - gaining valuable insights.
In parallel, we started to study the final application. We mapped user needs and user flows and then produced some wireframe prototypes. We mocked up some solutions such as voice command and map location and took them to test with users.
Thus, we had the opportunity to learn about various aspects of the service, such as the variation in the number of professionals per service, pricing according to the region, and the relevance of factors such as length of service and proper ways to stack the cargo. These insights helped us refine the product, such as changing some steps in ordering service and ordering introductory lessons about the service for new professionals.
So that we could really test our product and fully understand all the issues related to them, we ourselves realized some services through the application. It was often a tough task. The work is very intense and demands some physical disposition, but the reward of fully understanding the pains and needs of our users was far above that.
The first part of the solution is an application for truck drivers, through which the user can request a new service, provide cargo information and complete the checkout. They can also see the profile, ratings, and feedbacks of selected professionals.
Opening the app, the truck driver faces a home screen straight to the point, with a simple question:
Where do you want to call your next service?
There is also an app for the cargo assistant, through which the user can receive new services, check service information, carry out training and receive payment.
On the login screen of the truck driver's application, there is a banner inviting users to start to earn money working as cargo assistants through the platform.
Throughout the project, part of our efforts was dedicated to creating a fluid and clean service request experience that could meet the user's needs.
Important interaction details were foreseen in the project to improve the user experience, such as the animation of a box bouncing while the platform processes the search for professionals. In addition to being visually interesting, this serves as a reference for the user that the app is still running.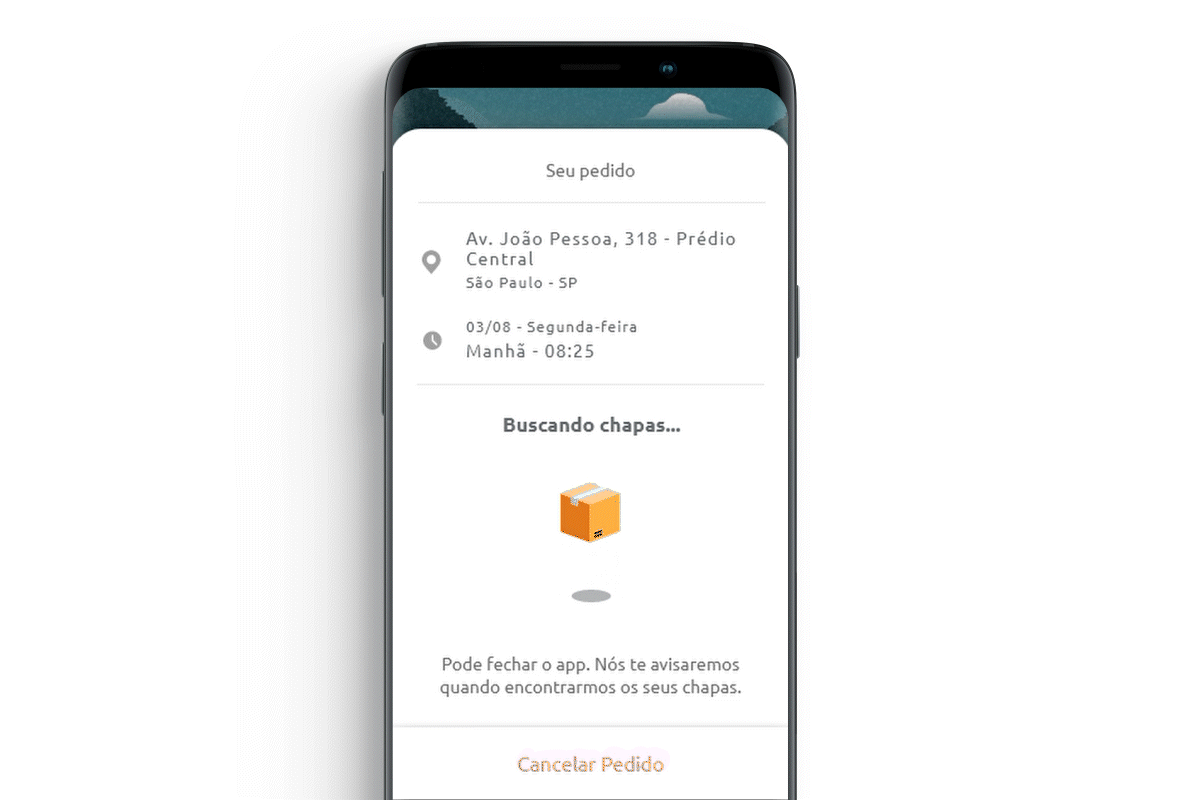 We have built a design system to establish a unique and coherent visual, branding, and design language across all channels and points of interface with the public, with scalable and reusable components in different business fronts.
During the construction of the project, we achieved important goals:
Startup One
​
We participated in FIAP's Startup One competition, being one of 10 awarded among more than 500 projects competing.
IBM Garage
​
We were selected to a development program worth R$ 150,000, in addition to US$10,000 in credits in IBM products.
Baanko Challenge
​
We were selected to participate in an Impact Business Acceleration program - Baanko Challenge 2020.
Press
​
Our project was publicized in the press on relevant content portals. Check it out here, here & here.
After 18 months of work, we decided to interrupt the startup's activities. The app did not present the expected return, and we realized that we would not have the financial structure to support our operation for much longer.
​
We came across some huge challenges, such as a more conservative public than expected and the pandemics - with a lower volume of services that also limited our performance. However, looking at the path we took, I can see some wrong business decisions I made that hindered our results. The central point is that we could have launched a more straightforward, leaner product, thus generating value and capturing market insights much sooner.
​
Entrepreneurship goes far beyond taking risks and not being afraid of failing. It is necessary to know how to face failure and learn from it. And you can learn a lot. Undoubtedly, being ahead of Droppa was a unique and enriching experience in many ways (but financially). I could exercise my knowledge about business, leadership, product, and user experience during this journey, facing all the challenges that building a startup can provide.